Product 25
Poetry and Prose from the Center for Writers

_____________________________________________________
Home
|
About Us
|
Staff
|
Center for Writers
|
English Department
|
Southern Miss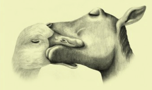 by
LESLIE SINGLETON


* HONORABLE MENTION, POETRY *


That the Air Spun Soft and Hurrican Warm

is my misremembering. It was cold
and dry, not silk so much as diamond

once the dark fell. Your diamond eye
steady against the pitch of sky: the object
and its reflection, equal in resolve

and splendor. Earlier the day's sunlight
spun to gold by March wind: cat's eye
yellow: our drinks tilted back

a match for the sky's slope, not pressing
but opening: a silk scarf blown
to an arc of infinity, anchored at either

end. So it begins. But the tilt-a-whirl
ground is not a thing to fasten
hands to, any more than the body.

It bucks and sways, a lake dock
given to sudden drops in rough water.
But beauty, not logic, is the reason

I find myself alone with you: your
quiet resolve to tilt the night back
like a glass, the drink as luminous

a streak as the stars in a row: your
gaze stone-flecked blue is explanation
enough in the gold of the dark.



After Your Death, I Remember You As You Really Were

Tigers sunned their sleek coats
on large rocks, guileless, dreaming:

Israel as a child, flights to Greece.
You took tea with the Queen, modeled

for Wilhelmina, spoke Chinese at three.
In France, your headmaster carried

a serpentine cane, stroked your satin mane
fed you black licorice, donned Geoffrey Beene.

The truth is the dog's devotion.
The Doberman on TV

keeps paddling across to its lost friend
the disturbed ground of an island.

The truth is you grow on Mumbai's coast.
At night I breaststroke the Arabian

rest under your wing, cast my offerings
to the magnetic sea.

At the Burial

When an elephant loses a calf
she rocks back and forth
keeps vigil for days.

She grasps the bones
with her trunk, turns them over
smells them.

Pulling branch from tree
she covers what remains.

That day the wind was strong
the long line of cars
snaking through the hills like vertebrae.


One: Number Thirty-One, After Pollock

a fox bird clay blood
rust hood the car burn
eye shot split vein

a drop trail

tar fur blackest map
winter pitch steep rig
paw ash scrape stick

go alone

bone drip syringe scrap
frond thrash the free hand
dog the field

bend the wire

Yellow Light

Yellow light brings the first roaches. Black wings at the corners, the faint ticking. But when I look nothing creeps. Nothing scuttles along baseboards or up walls. The trouble is the cat. Careless he dreams and does not hunt. The trouble is the holed boat. All night I bail while the beasts in the wall cry for mother. Now I pedal backstreets to the store, the green air off the ravine an open freezer. My teacher crowds every aisle. We intersect at odd angles, not once but twice, so I forget why I am here. Outside the coffee shop, book in lap, I stare into traffic. A man approaches. He shakes a finger in my direction. Study now, he says. Don't be drifting away.


Under the Rose

My mother eyed the wheel wells of my car with suspicion. Where was all of that dirt coming from? Where had I been going? Nowhere, I would say. Nowhere.

I burned the highway south, surfing wind. The world smelled like gasoline, like factory fire then. I turned a coin until it warmed between thumb and finger, a familiar silver. Until it did not bother. The hills opened then shut behind me.

Then gravel, then high weed, then T. I wish I remembered every stupid thing: Prine under the deck crooning everything is cool, everything's okay: a fly in a bottle of wine: and Tupelo, T's dog, before the accident. Her letter: I am building for you a perfect love...

When T kissed, something dropped, a hot rock sank, rose, reverberations like bees crowding.

I felt the aftershock, a kind of heat and longing. Not love exactly. Fields and magnets.


For T: Casey County, 1999
I am biking into wind when I realize someone is behind me, holding to me. Overhead the day bleeds a wall of wet paint. I wheel down against the stream: the bank trees wing by us at light speed.


You are the one I knew at seventeen, but not the same one, rocking, not the one I almost sent out the window when my parents came home early. Now we get lost in your old tan truck like we used to do, and you are happy. You open your mouth, laugh at the highway wind. I can hardly look at you. You burn me with a spilled blue, and I can't stop looking at you.

I replay that day in the garden, you in your shirt dress, dirty boots, hands digging the earth for arrows. When I take your hand you brush me off, afraid of your brother watching, throwing rocks. When I call you a month later from a diner pay phone, it will be the last time, a smoke signal sent to say I can't see you, we were wrong. In the truck I ask you to open your shirt, and when you do you are gold, filled with whatever you found when I walked away.

_______________________________________________________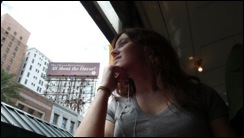 Leslie Singleton holds an MFA from the University of Illinois at Urbana-Champaign
and is currently a PhD candidate at the University of Southern Mississippi. Her work has previously appeared in Gulf Stream.