Product 25
Poetry and Prose from the Center for Writers

_____________________________________________________
Home
|
About Us
|
Staff
|
Center for Writers
|
English Department
|
Southern Miss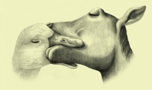 by
JEFFREY TUCKER


Heat, Twice

Hattiesburg, Mississippi


Understand already that snow is not
what it seems. Today was ninety-five
or more counting sun and steam
but say it—Utah—and thoughts of snow
follow me hotter. I still see
me chasing wife chasing me
snowball ready, wrapped in bathrobe
and jeans, neighbors watching
my robe thread between pines:
snow fell cold then, not flannelled and spun
as now, a sad batting. I need cool air
these days, recalling buried fields leading to
a brackish lake, not that I can see
for the glare.


The Stop-Sign
Later that night, investigators found the stop sign that controlled the traffic at that intersection lying on the ground near the site of the accident.
Thomas Miller v. State of Florida
February 28, 2001

February 6, 1996

Admit it: you need a liberator, friend.
The truest measure of a victim
is that they don't know they are one.
So hang on. Trust me.

Call it something other than theft—
you paid for me, after all. Stake your claim
and find a target. Heavy traffic, light:
there's no difference.
We'll all fall in the end.

Do you have a half-inch socket wrench?
Every crank makes hair rise
on the back of your arms.
Enjoy it. When was the last time
the small of your back was
this taut, armchair person?

Just think: soon there will be nothing
between young lovers and salvation,
speeding home late from happy doorsteps.
Remember those tiptoed arrivals
and say: no more.

One day, it will be thus countrywide,
no stops, no seizures, no license plates
or tickets or summons except that
of your conscience blown wide.
We'll speed from sea to shining sea
on a concourse of glistening tarmac.
Be there. Do your duty.

_______________________________________________________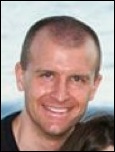 Jeffrey Tucker will soon graduate with a Ph.D. from the Center for Writers at The University of Southern Mississippi, where he also teaches. His work has previously been published in
Inscape
,
Saw Palm
,
The Broken Plate
, and elsewhere. Originally from Orange County, California, Jeffrey currently resides with his wife in Hattiesburg, Mississippi.