Product 27
Poetry and Prose from the Center for Writers

_____________________________________________________
Home
|
About Us
|
Staff
|
Center for Writers
|
English Department
|
Southern Miss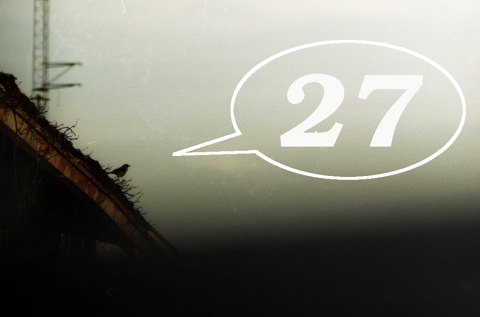 Photograph by Cory Brown
Fiction
* WINNER, FICTION
Banjo Light
by
LAUREN OETINGER

The morning he left he had bread in his pocket, had every dollar he'd ever saved in his wallet, and didn't say goodbye to his mother. If he said one word it would be fifteen and she would know.

My Life
by
MARCUS BROWN
The confusion started many years ago when they told me to kill my sister. I listened to them and now they have me in Whitfield. The guards call me schizophrenic. My mom calls me homicidal. Who cares, it's only a freaking name.


Lovely Things
by
JOSHUA MICHAEL JOHNSON
The suspension of Lynda's LeSabre popped and groaned as the aged car dipped through the underpass where East Main suddenly dove under a railroad bridge. The underpass was where Lynda always started to wonder if she was doing the right thing.


Security
by
TANJA NATHANAEL
What's this?
A book.
What?
It's a book.
Nights Without Sleep
by
HENRY B. SHEPARD III

It's a soft noise. Somewhere on the far side of the room, where the closet is. A small tap of metal scraping metal, like a key slipping into a lock.
Waiting
by
S.L. WOODS
She sits and waits. On the front porch of the quaint beige house, she sits barefoot with her scraped elbows pressed to her scraped knees and her tiny face propped up on her small, doll-like hands. She sits and stares out into the yard through her sparkling brown eyes
⎯
a lock of her hair gently blowing in the slow, warm wind and caressing her cheek.
Non-Fiction
With Onions Come Tears
by
BEN JONES
Mom tells me all the time that God looks at us like we are onions: "He takes each layer of our life and peels it away. God makes us become so utterly weak and helpless and forces us to rely wholly on Him. God did this to your daddy," she said.
Down 49
by
JONATHAN SNYDER
It's an unusually warm day in October, and I'm standing in Jefferson Davis's front doorway. He's not home at the moment; in his place is a rotund, middle-aged man who guards the door and lets people come in and not touch things.
Poetry

* WINNER, POETRY
...And the Water Absconded
by
MATTHEW GERMENIS

A City Kind of Pain, or How to Feel Blue
by
HANNAH BAKER

Untitled 1
by
MARCUS BROWN

My Child, My Child
by
JAMES CURTIS

Total Darkness
by
ALICE DOYLE

Untitled Ode to Getting Over It


by
VICKIE HALL

Dad
by
LENA LOUVIERE

Ruins of a Young Woman
The Strawberry Queen
by
JEFFREY MACLACHLAN

Empty Movie Theater
B-Movie
by
KARA M. MANNING

One Night: one of many, the same but not.
The Mechanics of Falling
by
TANJA NATHANAEL

Dali Giger Intersection
by
BRITTANY PASSONS

Stillborn Poem
by
STAR ROSALES

I Am Suicide
by
HENRY B. SHEPARD III

When We Were Drunk Last Tuesday
We Switched Lives