Product 25
Poetry and Prose from the Center for Writers

_____________________________________________________
Home
|
About Us
|
Staff
|
Center for Writers
|
English Department
|
Southern Miss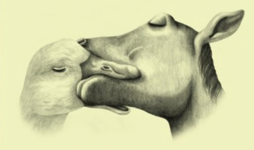 Fiction
* WINNER, FICTION
Girlish
by
CHIP FRIDAY

She was trailer trash, wore high tops, had a mullet, snapped her gum. Her glasses were the kind poor people wear, with large retro frames and smeared lenses—the type you'd find in a drugstore. I never wanted to be seen in public with her, but was willing to date her clandestinely.

* HONORABLE MENTION, FICTION
The King of the Mojave
by
DANIEL J. PINNEY

I live in an Airstream trailer in the desert outside of Barstow, down a dirt track that snakes off from Interstate 40 into the scrub. I've got my own low-slung mesquite tree (for shade), and a jerry-rigged connection to a nearby power line (for lights), and thanks to my disability and the patriotic feelings of my neighbors, I get a good deal from a local merchant for topping off the water tanks every week, and disposing of the waste.


Gun Juggling
by
MICAH HICKS

This is the Waffle House where the jugglers live. Through the grease-smeared door, the cashier tumbling receipts and rolls of change above the register. Pancakes, eggs, sausages making tight orbits in the air over the kitchen.
His Wife's Feet
by
ALEX MORRIS

Bloodied scraps of toilet paper like rose petals lay crumpled in the sink. He blotted at the gash at his hairline with a clean wad from the roll sitting on the dusty toilet tank. They didn't have a proper first-aid kit.
A Sailor's Journal
by
JENNIFER ROBERTSON

Day 37.


Asserted by a Simple Pin
by
MELANIE SMITH TODD

This black dog keeps hanging around my apartment. I don't know anything about dogs, but I think it's a mutt. It's a male; I can see that much right away because his tail curves up over his back, revealing an empty flap of skin where his testicles used to be.


The Wanderers
by
COURTNEY WATSON

It wasn't that it didn't look enough like a cave: the entrance gaped open like a long, black throat that could lead to anywhere, stalactites poked through the ceiling, and water rushed beside or behind or beneath them—Cara couldn't tell where the noise was coming from—slicking the prehistoric walls and chilling the balmy South Bimini air. National Geographic couldn't have done it better. The problem was the trash.

Non-Fiction
* WINNER, NON-FICTION
Dreamscapes, Night Terrors, and the Never-Ending Road to Stillness
by
ALLISON THARP
In sixth grade, I murdered my father.

Remembrance
by
DANIEL J. PINNEY
I light candles. It's what I do. I've never been particularly godly, and while a number of my dear, dear friends are witchy folk, I can't seem to bring myself to fully embrace their divergent theocracy any more than I can the more established and doctrinaire ones—you know, the kinds of faiths that construct buildings.


Poetry
* WINNER, POETRY
(Larrea Tridentata)
by
ANDREA SPOFFORD

* HONORABLE MENTION, POETRY
Diagramming
by
CLAUDIA SMITH

* HONORABLE MENTION, POETRY
That the Air Spun Soft and Hurrican Warm
by
LESLIE SINGLETON

by
GARRETT ASHLEY

The Problem
Bird
The Brief Tale of a Civilization
by
ALLEN BERRY

Before the End
by
FAE DREMOCK

treatment
Batman

by
MATTHEW GERMENIS

American Tune or, the Immigrant's Song
Inferno, Purgatorio, and Brighton Beach

by
LAURA GOLDSTEIN

Dreams are for Children
Crossing the Midline
The Blonde from New York
A Tight Space in Dominos
Cyborg
by
RANDY GONZALES

Three Disassembled Sonnets
by
EVAN HARRISON

Phrasebook
by
HEATHER HOLMES

Be My Dog
by
DUSTIN KEYS

Parallax
by
COREY LATTA

Before Bed
Driving Boyhood
A Vision Wanderer
On Your Birth
by
TANJA NATHANAEL

On the Road to Dachau
by
S.T. POWELL

Little Sleeper
Tests
The Doctor's Wife
by
ANDREA SPOFFORD

(Placer County, CA)
(Tadarida brasiliensis)
(Eschscholzia californica)
(Larrea Tridentata) * Poetry Winner
Daisy and Violet Hilton--San Antonia's Grown Together Girls!
Big Baby Bunny--An Aside
Concerning Daisy and Violet Hilton
by
LESLIE SINGLETON

After Your Death, I Remember You As You Really Were
At the Burial
One: Number Thirty-One, After Pollock
That the Air Spun Soft and Hurrican Warm * Poetry Honorable Mention
Yellow Light
Under the Rose
For T: Casey County, 1999
by
CLAUDIA SMITH

Diagramming * Poetry Honorable Mention
by
JEFFREY TUCKER

Heat, Twice
The Stop-Sign
by
MARJORIE TURNER

Ey Whitey
The Love Song Revisited