Product 25
Poetry and Prose from the Center for Writers

_____________________________________________________
Home
|
About Us
|
Staff
|
Center for Writers
|
English Department
|
Southern Miss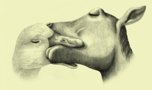 by
COREY LATTA


Before Bed

Her eyes blaze—
to me they do—
and fall on me like
morning rain over
a low valley deep
in summer. Her
hand on my
shoulder in a light
way poured some
new joy on me,
cascading through
her veins all thick
in grace while the
lights go out.
Our bodies speak—
hers in low tones
of soft swipes
of thigh, arm, hip
and mine in deep
hums that reverberate
in the dark, and
we spread out.
Love flat and curled
on the canvas holy.
Sprawled out far
to write on with limbs
for pens, and unseen
letters made by delicate
fingers circling, traces
in the dark. Then
sleep, that deeper dark,
enters and says,
"be still now."

Driving Boyhood

I rode in a plastic car
when a child wildly
peddling in cowboy
boots with legs bare
beneath a hot sun
north of Memphis,
toiling down dirt and
gravel with young
mischief and a cat
named Tiger baffled
and riding shotgun.

A Vision Wanderer
If I could leave a path, worn out
and beat amidst wetted oak
shedding, and swept mossed maples,

among the fire streams in midday,
shown in the forgotten back country,
just a speckle in man's broad eye

on God's stage. Just a speck.
If my feet could beat beside incendiary
shrubs with toes for matches, striking

little fire-little fire, having oiled veins
running down through pillared
legs hurdling over dried logs in dead valleys.

If I had a torch to my feet, then sight
should come easier, stumbling less on
the rocks, and my wander more fulfilling.
On Your Birth
You were awakened today, born in time
in humility and gentleness from ages before days
in the maker's mind. Born in grace for
a greater life in a lesser time. Born to walk
the lamp's path from this day to then.

You will take many steps, some to salvation
some to sorrow, savoring all the while the
quiet stillness of an unseen savior. A savior
seizing your heart when he's ready, like a shepherd
to his own, walking with the ninety and nine and then the one.
Run child. Step to your shepherd with bare feet on
green fields below the bush and flames and river's banks.

You will hear many voices, tempters, mockers, friends
and feasters – faithful to the hunger for the bread
of life – starvers and saints, family voices and stranger sounds.
Listen child. Hear for yourself the truth, that clear ringing
bell like lightening to the ears of your young heart.
Let the spirit hold his sway and the serpent at bay,
catch that voice that spoke light, that raged through
prophetic tongues and caressed your Christ.

You will see many things, your father's good heart,
his mirth, your mother's love and calm strength.
Seeing on, your eyes will open wider to see cruelty
and pain, vanity and a dark world on every street,
in every person. But –
See child. See in your sightless faith the world beyond the world
and see in others, as in a mirror dimly lit, an image of the good God
and a worthy soul. Take in your sight the world
that is, that is and envision the world that is not,
that is not but will be.

And you will feel, many, many, many hearts will beat
in you and break in you and you will love many things.
Like a well-spring from a new, ageless river, an eternity
in a moment's emotion, your heart will rise and plunge as mountains
under the sun and moon, and break like stars on the dawn.
But love child. Love this world like a pierced God between thieves.
Let your love come on like a storm, loving your creator
and his creation, leaving none for yourself,
losing your heart to find life.

Today – a great awakening. Celebrate.
Child of lion, child of lamb.

_______________________________________________________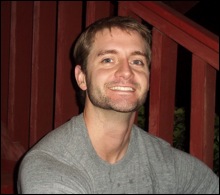 Corey has published two books,
Election and Unity in Paul's Epistle to the Romans
and
Functioning Fantasies: Theology, Ideology, and Social Conception in the Works of C. S. Lewis and J. R. R. Tolkien
. His poetry has appeared in
Product
literary journal. Corey is currently pursuing a PhD in literature at the University of Southern Mississippi.